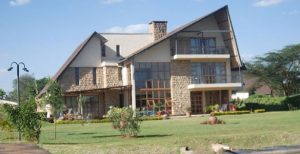 The value of luxury homes in Nairobi has shot up by 40 per cent over the last five years as more wealthy individuals opt to invest in the real-estate sector, a new report by property management firm Knight Frank shows.
Prices of prime residential properties, however, only grew by 2.1 per cent in the year ending last June.
Kenya was position 22 in the Prime Global Cities Index (PGCI) conducted by the property firm, far behind South Africa that was at position three with 16.1 per cent price growth. The index tracks price changes in local currency in 37 cities.
The report also noted the price declined by 0.2 per cent in the last three months to June.
The marginal growth in value of high-end homes was largely attributable to the ''realistic pricing'' and because they are seen as a safe and resilient investment option by the wealthy, Knight Frank said. "Prime property investments have proven a safe option when compared to other alternatives such as the stock market. Buyers are aware of market conditions.
''However, high-end buyers are discerning and willing to pay a premium for the right property based on location and quality," said Knight Frank Kenya managing director Ben Woodhams.
Priced from Sh80 million
The cost appreciation of prime property in Nairobi is expected to continue for the remainder of the year even as transaction volumes remain low. Luxury properties target high net-worth individuals and are located within affluent areas.
Knight Frank defines a luxury home in Nairobi as any residential property priced from Sh80 million. They are standalone units of high-end quality and finishing sitting on not less than half an acre and located in posh city estate.
In a previous interview with the Business Daily, a Knight Frank agent said investment going into prime residential property is growing and the supply of prime property, especially in the gated community set-up will continue.
Luxury homes in the capital look attractive to high net-worth individuals as other investment classes such as equities underperform.
"Demand is another factor as it still slightly exceed supply for the very top-quality residential property, despite a recent increase in new-build," he said.
– Business Daily
(54)
137147